Best Wolverine WIOS-5.8 Indoor-Outdoor Wireless Speakers Reviews
Introduction:
Wolverine products always seem to improve how we share, back up and capture media. Wolverine WIOS-5.8 Wireless Indoor Outdoor Speakers increase the range of places where you can share music. The speaker system is flexible because it allows you to share music with friends and family in many environments.
Brief Description: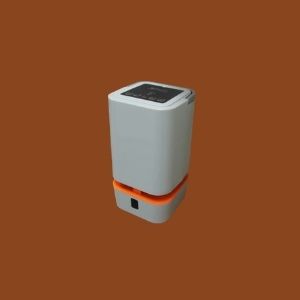 The WIOS-5.8 includes a compact remote control, a basic 1/8-inch analog audio cable, three power adapters, a wireless transmitter base, and two 5-watt wireless speakers that are portable. There is also a one-year limited warranty. The system is easy for any person to set up, even those people who have never set up an audio system before. So you can easily operate this.
The dual wireless speakers included with the WIOS-5.8 are cylinders that measure 5.1 x 5.1 x 9.9 inches. The speakers receive the audio signal wirelessly. It will be necessary for the wolverine speakers to be plugged into a normal wall outlet if the included power adapters are being used. However, each speaker can be powered by six AA batteries that are not included and Both of the speakers will be wireless if batteries are used to power them.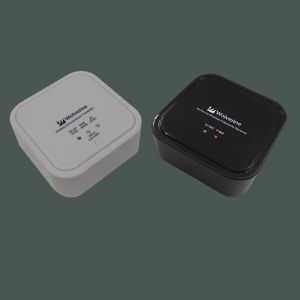 A wireless audio signal is received by the speakers by a wireless transmitter base that is included. A stereo audio signal is transmitted using a 2.4 GHz frequency but As long as there is nothing in between the speakers, the transmitter base, the speakers can be placed up to 200 feet away. The transmission range will decrease if there are any obstacles between the wolverine speakers and the transmitter base.
Another advantage of the WIOS-5.8 speaker system is the fact that it is water-resistant and weatherproof. It has an Ingress Protection rating of IPX3. This means that these wolverine speakers can be used on a boat, by a pool, on a patio, or in a backyard without any fear of them becoming damaged by being exposed to the elements.
The stereo speakers are capable of producing 10 watts of total RMS power output. This means that the system contains an adequate amount of power to fill a back yard or a living room with music. If you purchase additional WIOS-5.8 speakers then you will be able to power them with only one wireless transmitter base.
When it is time to decide which audio source to play through the system, there are two different inputs in the transmitter base to choose from and The standard 1/8-inch stereo mini jack is the most universal input. An analog audio cable is included, so it is not necessary to buy another cable to connect a tablet or smartphone to the WIOS-5.8 system.
A USB digital audio port is the second input. This allows the user to connect various audio devices digitally. It is also capable of supporting direct digital audio connectivity between the WIOS-5.8 speaker system and a Mac or Windows laptop computer.
Some unique design features are a part of the WIOS-5.8 system. The wolverine speakers feature soft blue LED lighting near their base as a visual enhancement. If a little more ambiance is needed so the lights can be turned on by using the remote control. They are perfect for a backyard pool party that is happening after dark.
There is also a flip-up handle on each speaker that can be used for carrying it, as well as hanging it from a fence, ceiling, or wall. After a location has been selected, mono, right stereo, or left stereo can be activated by using a switch found in each speaker's battery compartment because it comfortable. The wolverine speakers are ideal for relaxing after a hard day at work, or for entertaining friends at a party.
Paring
Each transmitter can connect to multiple receivers (8 receivers). You can
The twin additional speakers or receivers on the transmitter follow the steps:
Connect the power adapters to both the transmitter and the receiver and operate them.
Join the audio source on the transmitter via line-in or Bluetooth and play the audio source.
You must go to the audio signal transmitter. Press and hold the pairing button on the back right of it. The transmitter starts the transmitter until the TR-SP SYNC LED is on flashing. Release

Pairing button. Press and hold the pairing button on the back right of it. Recipient until the SYNC LED flashing on the receiver starts. Release Pairing button. If the pairing method is successful, both SYNC LEDs will flash up and the audio equipment will play music for you. In case of channel interference, allow the pairing process to repeat. Wolverine to select a different channel (frequency).
Advantages:
Premium sound quality
200 feet transmission range
Connects to all smartphones, music players and TV and amplifier systems
No-wires, simple setup in minutes
Supporting direct digital audio connectivity
End speech:
Enjoy the sound around your home, in your yard, on the patio, by the pool and even around the stereo on your boat. They are portable with flip-up carry handles so you can easily carry your music with you. AC and battery powered wireless speakers free you from the hassle of drilling holes and running wires.